This weekend's whimsical cupcake experience all began with a book (of course) I bought called The Whimsical Bake House, by Kaye Hansen and Liv Henson. OMG...it's such a cool book with fun, creative ideas. The recipe for the "House Buttercream" is in this book...that's one part, and then there's this section on "Working with Chocolate," which I got fascinated with. The next day I went to AC Moore and got some wafer chocolates and tried my hand at the little designs you see here. There are templates for "chocolate work" with each recipe in the book.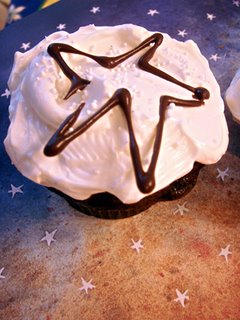 This book is very encouraging and it's so easy to get started. I put my melted chocolate in a plastic squeeze bottle, used the template to make some stars, and eventually just started drawing squiggles! It was very fun...and funny because it seemed hard to make the simplest star! I made basic chocolate cupcakes and inserted one Vosges Exotic Red Fire Chocolate Chips wafer in the mddle of the batter after I poured it into the cupcake cups.



The "House Buttercream" frosting was interesting. I love it! It's the first time that I have used Crisco in a frosting...and butter, too. It was actually very easy to make and it went worked so well on the cupcakes. It was easy to make swirls or whatever. I will definitely make it again! It's a perfect complement to the chocolate chili flavor of the cupcakes!

Enjoy!